NATURAL HOME MADE FACE PACKS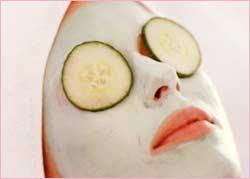 NATURAL HOME MADE FACE PACKS
FACE PACKS FOR HEALTHY AND GLOWING SKIN.
Everyone loves to have healthy, glowing skin. We try different products in market to achieve this.
Or we spent lot of money going to beauty saloons.
This article helps you from that, say good bye to beauty saloon or those cosmetics .
All you need to do is, just spend little time for yourself.
MULTANI MITTI FACE PACK
Apply multani mitti with water/rose water /milk/curd depending on your skin type for ten to fifteen mins. .It helps in making your skin tight ,doesn't allow pimples to come,tones skin.
HONEY FACE PACK
Apply honey alone or mix with two or three drops of lemon for 15 to 20 min.It helps in moisturizing and increases the complexion.
CURD AND EGG FACE PACK.
Mix egg white and curd in equal amounts and apply for 15 to 20 min. It helps in skin tightening.
FRUIT FACE PACK
Apply any fruit which is available in your home for 20 to 30 min. Helps in increasing the complexion and cleaning the face.
KHEERA FACE PACK
Apply kheera  paste on face for 20 to 30 min. Helps in cooling.
ALOE VERA FACE PACK
Apply aloe Vera gel for 20 to 30 min  ,helps in preventing pimples and acts as astringent.
All the above are easily available in our home and can be applied easily.
Thank you
Deepti!
---
Like it on Facebook, +1 on Google, Tweet it or share this article on other bookmarking websites.