Tamil rights
seven months should be reached to the beleaguered Tamil brethren in Jaffna. Failing to get the Centre and the state government to move the Red Cross for transporting the essentials to the battered Tamil areas of north Sri Lanka, the Tamil nationalist attempted  to take boats himself from Nagapattinam on Wednesday for delivering the goods across the Palk Strait. The much-publicised voyage failed to take off as the government ensured no fisherman gave his boat for what seemed a hopeless adventure, particularly after Colombo warned that its Navy would take care of any incursions into its waters. Some years ago, Mr Nedumaran attempted a similar mission and brandishing a tiny Vel (sword-like weapon of Lord Muruga) had climbed onto a broken boat by the Rameswaram fishing jetty to sail to Lanka and redeem the Tamils from the Sinhala regime. A few of his followers fell into the water and were picked up by the local fishermen, while the leader himself gave up his planned "invasion." All this is not to belittle these  demonstrations that only serve to highlight the Lankan Tamil cause, which must distress any civilised society across the world  willing to spare a thought for the thousands of innocent victims of the violence battering this beautiful island for the last two  decades and more. Colombo may be right in arguing that it does not need any outside supplies since it has ensured there is enough food and medicines in the Tamil areas, but what about the numerous complaints of murder, abduction and other serious
human rights violations, often allegedly perpetrated by either the government forces or the Tamil paramilitary outfits functioning
as satellites of the state?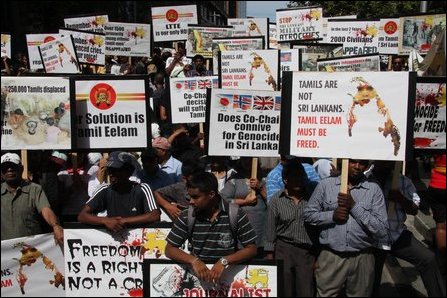 The LTTE has presented a detailed report before the UN Human Rights Council to allege that more than 1,974 Tamil civilians have been killed and 842 others either arrested or abducted since President Mahinda Rajapaksa has come to power in November 2005.The Tigers have demanded that the UN human rights officials visiting Sri Lanka during October-December this year should also include the Tamil areas in their itinerary. Perhaps Mr Nedumaran and his associates on this side of the sea can focus on this human rights issue rather than insisting on ferrying across rotting rice and "expired" medicines
---
Like it on Facebook, +1 on Google, Tweet it or share this article on other bookmarking websites.