Indian cricket
CRICKET IN INDIA:
History
In India Cricket's arrival came courtesy of English colonialists in the late 1700s. Calcutta Cricket Club was the first club, formed in 1792 for Europeans only. Indians soon began to play, however, with the game taking prominent hold in Bombay. The Parsees beat the Europeans in 1877 and subsequently toured England, though won only one game. By the late 1920s, India was keen to play Test cricket but had to persuade the ICC it was ready - and it needed a national organizing body, so the Board of Control of Cricket in India (BCCI) was formed in 1928. India finally made its Test debut in 1932, after which a national competition followed in 1934, named the Ranji Trophy after KS Ranjitsinhji. This is how in INDIA cricket came into existence.
And then most of the people of this country started playing and watching this game. Then it spread in leaps and bounds.  Though the national game of INDIA is hockey, people prefer cricket to hockey,
International Competiton
India's triumph in the 1983 World Cup is still talked about today. Their next success in a global tournament came in 2002 in the ICC Champions Trophy, when they were joint winners with Sri Lanka. Heavy rain forced the two finalists to abandon the game - the first such instance of a world cricket trophy being shared. India's cricketers were also heavily feted in 2007 when they won the first World Twenty20 in their own right. They faced close rivals Pakistan in the final in a game watched by a global audience of 400 million people. Currently, INDIA is in the second spot in ICC rankings.
There are many captains who took this game to a higher level. Some of those important captains are Kapil Dev, Sunil  Gavaskar, Mohammed Azaruddin, Sourav Ganguly And M.S.Dhoni. Under the captaincy of Kapil Dev INDIA won its first world cup in 1983. Under the captaincy of Sourav Ganguly INDIA won the ICC Champions Trophy in 2002 and are the runners of 2003 world cup. Under the captaincy of M.S.Dhoni  INDIA won its first T20-20 world cup.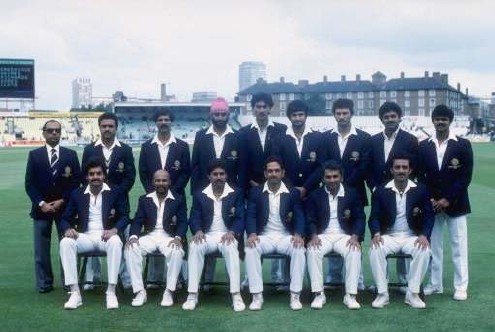 1983 world cup team
2002 champions trophy indian cricket team
T20-20 champion indian cricket team
Domestic Competition
The premier domestic competition in India is the Ranji Trophy, founded in 1934, which has consisted of two leagues since 2002-03. It is the main first-class tournament, with teams largely from various states contesting the prize. The Duleep Trophy is also first-class, originally conceived to combat the predictability of the Ranji, while the Irani Trophy is held once a year, featuring a match between the Ranji champions and Rest of India. The Vijay Hazare and Deodhar Trophies are both one-day tournaments, while the Challenger Series comprises the top 36 players in India. The Indian Premier League (IPL) quickly established itself as the domestic tournament to play in for all of the world's leading cricketers, and aspiring young Indians. Rajasthan Royals were inaugural winners in 2008 and Deccan Chargers are the winners of IPL season 2.
All-time great:
Sachin  Ramesh Tendulkar is undoubtedly India's  all time great. Tendulkar, The Little Master (he stands at 5' 5"), is feted the world over for his exceptional batting, not least in his home country of India where he graces billboards and TV advertisements, as well as owning a restaurant in his own name in his home city of Mumbai. Known as a complete batsman, his highest score in Tests is 248 not out and he has amassed more than 12,000 runs. His highest score in ODI is 186 not out and has scored more than 16000 runs and with the best bowling figures of 32 for 5. He is the highest run getter in ODI and in Tests. He has scored the most number of centuries in ODI and in tests. He is the only cricketer in INDIA who has scored century in debut in all three domestic trophies(Ranji Trophy, Duleep Trophy, Irani Trophy)
Women's cricket
India has always been Asia's strongest team - indeed, it is the only side from the continent to have reached the World Cup final, in South Africa in 2005 - and it has never lost an Asia Cup. India had the world's first professional female players, in a sense, for its premier players competed for such clubs as Railways, for whom they were also employees. Today, the game is run by the world's richest board - the BCCI - which offers both financial assistance and a high profile to its players.
---
Like it on Facebook, +1 on Google, Tweet it or share this article on other bookmarking websites.