Avvai Shanmugi
Hi friends in this article let us discuss about one of the Kamal hassan best comedy film called as Avvai Shanmugi, which was a huge hit and the most important thing in this movie is that Kamal acts as old lady called as Avvai Shanmugi  and each every scene was full of humor.The outline of this film is that Kamal acts as an old woman who takes care of his daughter who was spearated from him.The rest of the movie revolves around how Kamal joins with his wife.


Technical Crew of this film

i)This film was directed by K.S Ravikumar and this is the first film Kamal acting in Ravikumar's film

ii)This film was released in 1996 and it was released on Diwali along with Prabudeva's film Mr.Romeo

iii)This is a remake of the famous English comedy film Mrs. Doubtfire

iv)The music was composed by Thenisai Thendral Deva and this was the first time he composed for a Kamal Hasan movie and on the 150th day celebrations of this movie Kamal presented a gold ring to Deva and Deva consider this as his treasure together with the gold chain which presented by Rajini for Annamalai.

v)As in many of the Kamal's movie Crazy Mohan wrote the dialogue for this movie

vi)This film was produced by R.K.Hari

vii)In 1997 this film was remade in Hindi as Chachi 420 with Kamal playing the same role as he done in Tamil.

ix)Initially K.S Ravikumar and his associates Ramesh Khanna and Kumaresan was not interested in remaking the English movie  Mrs. Doubtfire, but later Kamal convinced them and started the project

x)Famous director Cheran was the Assistant director in this movie

xi)Kamal dedicated this movie to his theatre guru Avvai T.K Shanmugam

xii)Meena won the "Six Cinema Express" award for best actress and she also won DINAKARAN Tamil News Paper's Best Actress Award.

xiii)Child actor "Baby Annie" won the the TamilNadu State Award and Filmfare Award and also other awards in the best Child actor catoegary

Artists in this film

i)Kamal Haasan as Pandiyan, who is the husband of Janaki(Meena) and in another chracter he acts as Avvai shanmugi to take care of his daughter.

ii)Meena acts as Janaki, and she is a daughter of Wealthy bussinessman Vishwanathan Iyer(Gemini Ganeshan)

iii)Nassar acts in a character called Bhai, is a close friend of Pandia, where he acts as if he cant's speak so that  he could work in Vishwanathan Iyer's house and he also comes as a typicl Hindu person so that he believes that Vishwanathan Iyer will gve him a job.

iv)Nagesh acts as Joseph and he is a make up man and also a friend to Pandian

v)Manivannan as Mudaliyara and he is the house owner of Pandian

vii)Gemini Ganesan as Vishwanathan Iyer and he is a wealthy person and he belongs to an highly orthodox Brahmin family

viii)S. P. Balasubrahmanyam does a cameo role as a family Doctor to Vishwanathan Iyer's family

ix)Heera as Ratna and she is a student in Pandian's dance troop and she falls in love with Pandian

x)Delhi Ganesh as Senthurama Iyer and he works in Vishwanathan Iyer house

xi)Annie as Bharathy and she is the daughter of Pandian and Janaki

About the movie

The film starts in a court where the divorce case was going and Janaki(Meena) was fighting for divorce from Pandian(Kamal) as she feels that she could continue her marriage life as she was not able to come to terms with living in a small house with no amenities and also Kamal is not able to spend much of the time with her as he runs a Dance school and also a choreographer in film industry.

Finally Meena wins the case as the court agrees to give divorce.According to this verdict Pandian can meet her daughter Bharathi every Friday and that too in a public Place.So Pandian meets her daughter every Friday in a temple.But Bharathi wants to live with her father rather than mother.

After some days Pandian sees and advertisement in a newspaper that Vishwanathan Iyer was in search of a servant maid who can also takes care of his granddaughter.After seeing this advertisement she calls him and speaks in a lady voice and when Vishwanathan Iyer asks for her name he first struggles and later he sees the street name as  Avvai Shanmugan Street and says his name as Avvai Shanmugi.

Then he goes to Nagesh and asks for his help. Nagesh accepted his offer for 20,000 rupees and he assured him that he could change him as old lady with the help of his Make up techniques.For this Pandian sells his bike and gives the money to him but still there is a shortage of money.Finally Pandian becomes Avvai Shanmugi and he goes for the interview in a Ladies bus, but Nagesh says that he make up stays only for 5 hours.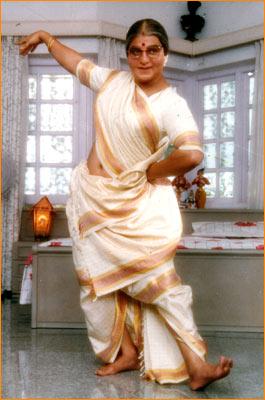 Then he(Pandian as Avvai Shanmugi) goes to the house for the interview , where he finds that interview was already over and they asked all theothers to leave.During that time Bharathi, Pandian's daughter, meets with an accdient due fire as she was burning crackers and seeing this Pandian saves her.


Watching these activities of Pandian Vishwanathan Iyer immediately appoints Avvai Shanmugi.There Avvai Shanmugi was recognized by Bharathi and she finds and says that it was not Shanmugi but his father.Then lot of activities takes place there and Avvai Shanmugi and his daughter finds and shows Vishwanathan Iyer the different types of theft going on in the house with the help of Senthurama Iyer and the cook.


As Avvai Shanumi resembles the wife of Vishwanathan Iyer,Vishwanathan Iyer(Gemini Ganesh) falls in love with Avvai Shanmugi and to escape from this situation Avvai Shanmugi says that she was already married and her husband left her to Kasi.To find the truth Sethuraman Iyer follows her and he gets caught with Muthaliyar(Manivannan), who was also in love with Avvai Shanmugi.

Seeing this he beats Sethuraman Iyer and by this time Avvai Shanmugi now comes as Pandian and he rescues Sethuraman Iyer and says to mudhaliar that Sethuraman Iyer was the husband of Avvai Shanmugi.Pandian says a different story to Sethuraman Iyer that Mudhaliyar was the husband of Avvai Shanmugi.

Similary when all the members of Vishwanathan Iyer  goes to a jwellery shop, Joseph comes there and he was asking money from Avvai Shanmigi.Watching this Vishwanathan Iyer questions Shanmugi who it was and she says thet it was her husband so sthat she could escape from the situation.

So Vishwanathan Iyer says that he will give money so that he should leave Avvai Shanmugi and Joseph who was money oriented accepts the offer and during this time Sethuraman Iter comes in and says he isn't the husband but Mudhaliyar was the husband of Avvai Shanmugi, but Joseph somehow manages the situation.Nassar(Bhai) who was the friend of Pandian was working in a tea stall and seeing this Kamal says him to go and meet Avvai Shanmugi in Vishwanathan Iyer house and him to go as dumb and as a Brahmin.He also joins in the job but he was caught by sethuraman Iyer and they came to know thet he was a Muslim and he can also speak.

However Avvai Shanmugi saves Bhai.At some point of time Avvai Shanmugi hints to Vishwanthan Iyer that Janaki's rightful place is by her husband, Pandian and Vishwananthan Iyer also realises this and tells Janaki that she has no place in his house. So this made Meena very angry and she attempts suicide, but Avvai Shanmugi(Pandian) stops her and finally reveals that he was Pandian who came as Avvai Shanmugi to Janaki's hous to look after his daughter.Finally Janaki and Pandian understand the mistake made by them and they live happily.


Songs in this movie

i)"Rukku Rukku Rukku... Are Baba Rukhu.." was sung by Kamal Haasan , Sujatha and most importantly Kamal sung this song in female voice(Avvai Shanmugi)

ii)"Kadhala Kadhala...." by Hariharan , Sujatha

iii)"Kalyanam Katcheri...." by S.P. Balasubrahmanyam and this is the opening song where Kamal Hassan was choereographing a dance sequence for a film.

iv)"Velai Velai...." sung by S.P. Balasubrahmanyam and this is very humorous as this shows how Kamal changes his charcter and manages both as Avvai Shanmugi and Pandian.

The IMDB rating for this movie is 7.8 out of 10.
---
Like it on Facebook, +1 on Google, Tweet it or share this article on other bookmarking websites.