Tomato soup using microoven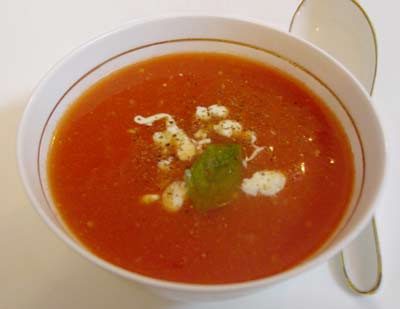 INGREDIENTS:
1)250 GMS. Tomatoes(Chopped)
2)1 Medium onion (Chopped)
3)1 tbspp garlic(Chopped)
4)1/2 tbsp sugar (Optional)
5) 2 Tbsp fresh Cream(Optional)
6)1 tbsp cornflour
7)2 tsp butter
8) 3 Cups water
9)1/2 tsp garam masala powder
10)Salt and Black pepper(to taste)
Method:
1)In a microwave safe bowl, microwave 1 tsp of butter at 100% power for 30 seconds
2)Add chopped garlic,tomatoes,salt,onion and 1/2 cup water.Microwave covered for 4-5 mins,at 100% power.Blend in a blender ,strain and make a puree.
3)Add the tomatoes puree, 3 cups water, cornflour(dissolved in 1/2 cup cold water) and sugar in another microwave safe bowl.Microwave at 100% power for 4 mins.Stir inbetween
4)Stir into lightly beaten cream
5)Garnish with fleshy chopped coriander
NOTE:You can omit the cream and sugar for low calorie version
---
Like it on Facebook, Tweet it or share this article on other bookmarking websites.