Cakes
Everytime you passed the Confectioners, you envied the smell of a fresh baked cake and felt helpless ?
Want to impress your boss/spouse/friend/guest with cake and you dint knew how to bake one?
Presenting two simple recipes of cakes,bake and enjoy!
RECIPE FOR PLAIN SPONGE CAKE
INGREDIENTS:
Refined flour(maida)-165 gms
Eggs-2 Nos
Powdered sugar-165 gms(preferably icing sugar)
Butter/Dalda-65-85 gms
Baking powder-1/4 tsp
Vanilla essence-a few drops
Milk-100ml(to improve consistency)
METHOD:
1.Sieve the flour and baking powder together
2.Cream butter and sugar very well,till light and fluffy.
3.Beat eggs into the creamed sugar,add flavour ,gradually beating everytime
4.Fold into the sieved flour very tightly,adding milk and baking powder to make a drop batter consistency.
5.Glaze the baking tin with butter and pour the mixture.Bake it at 190 degrees Centegrade for 25 minutes
6.Remove and let it cool.
---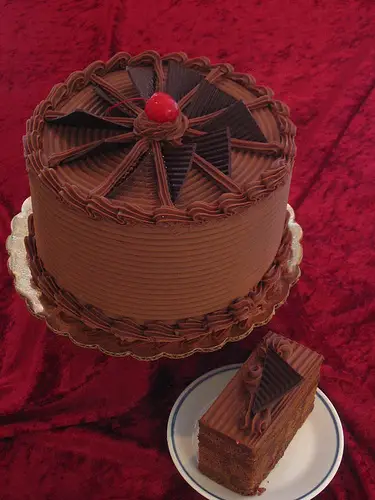 RECIPE FOR CHOCOLATE CAKE
INGREDIENTS:
Refined flour(maida)-150 gms
Butter-115 gms
Powdered Sugar-175 gms
Eggs-3 nos
Cocoa powder(or drinking chocolate)-30 gms
Baking powder-1/2 tsp
Milk-1 Tbs
METHOD:
1.Sieve  flour,baking powder and cocoa
2.Cream butter and sugar till light and fluffy.
3.Beat eggs and add to the creamed mixture
4,Add to the sieved flour and add milk to get drop batter consistency
5.Pour the mixture into a greased tin and bake it for 30 minutes at 325 degress Farenheit or till done
---
NOTE:
1.The fluffy nature of the cake depends upon how well you sieve the flour ,smooth texture of the creamed sugar and good beating of the eggs
2."Cream the butter and sugar" is nothing but,adding sugar to butter and mixing it thoroughly to make it look like cream.A lot of patience is required to cream the sugar and butter.Make sure that it is not grainy but smooth and fluffy.(Mixie can be used here or can be done by hand)
3.Icing is the creamed sugar itself.You can decorate the cake with the creamed sugar along with red cherries/strawberries/nuts or toppings of your choice.
4.How do we check if the cake is baked?Insert a knife at the centre of the baked cake and remove it;if the batter sticks to the knife,then it need to be baked for a longer time.Donot overdo or exceed the baking time
---
Like it on Facebook, Tweet it or share this article on other bookmarking websites.