He is Mahtama
Mahatma Gandhi is called the "Father of the Nation". That Nation is India. Not only India, In the twentieth century, he had been one of the greatest leader of the world. He brought independence of the Indian country from British. His weapons in this war were unique. These are truth and non-violence.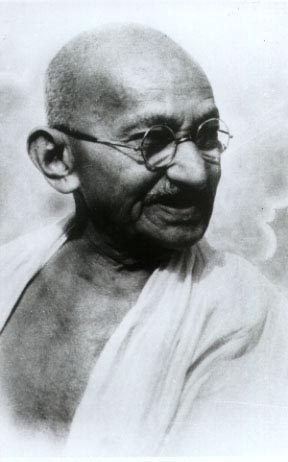 His full name is Mohan Das karam Chand Gandhi. He was born on 2nd October, 1869 at Porbandar in Gujarat. His father name is Karam Chand Gandhi.  His father was Dewan in Rajkot State. His mother was an educated women. Her name is Putli Bai.


After passing his matriculation in 1887, he went to England to get higher studies in Law. In 1893, he went to South Africa. There he was appalled by pathetic conditions of coloured people and discrimination against the Indians and South Africans. Many Indian women worked as a slave in sugar cane fields. He fought for their rights.


He adopted a new method of light against the British rulers. He practiced peaceful resistance to racial discrimination. His weapons were Satyagrah(truth) and Ahimsa(non-violence). Many youngsters followed him. Thillaiyadi valliammai, a young girl was an example. She sacrificed her life for this fight against British rulers.


After winning the battle in South Africa, he returned to India in 1916. His aim was to bring Independence to India and build it as a self-reliant nation. He started non-violence and non-cooperation movement to achieve the above objectives. He move the followers with his sincerity, simplicity and sacrifice.


Along with many leaders and countrymen, he was sent to the jail several times. Britishers realized that they cannot control the freedom fire. The millions were following the path of Mahatma Gandhi. On his behest, they were ready to sacrifice their life for the freedom of the country. In 15th August 1947, the Britishers had to retreat and India was declared as a free country.

The Scene after the Independence was terrible. Unfortunately the country was divided into two nations, India and Pakistan. Problem between Hindu and Muslim was raised. There was turmoil, chaos, terror and bloodshed all over. It caused heavy loss of life and property on both sides of the man-made border.


Gandhiji was saddened by the communal hatred. He began fast unto death, unless the condition at Naokhali in East Bengal, which was worst affected, was brought under control. Ultimately the peace returned among the Hindus and Muslims. What Gandhiji achieved in his life was a miracle. He lived in the hearts of millions of Indians and was respected by all.

He laid great emphasis on banishing untouchability, Hindu-Muslim unity, removal of illiteracy, development of cottage and handloom industries, equality to women and development of villages and agriculture. He believed that purity of soul can be brought by sacrifice and service to the poor.


On 30th January 1948, the world lost a great leader, Mahatma Gandhi was killed by a fanatic, who did not like his way. That fanatic fired three shots over Mahtma. There was gloom all over the nation. He was cremated at Rajghat in Delhi.


Although he was dead, his name lives. He lives in the heart of millions. Even after five decades, his principles, dedication and mission continue to inspire the country. His thoughts give proud to our country till now.
---
Like it on Facebook, Tweet it or share this article on other bookmarking websites.